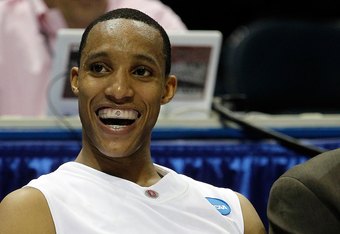 By TWW friend Eric
12-19. Could be worse. If it was worse, would that be better? Some people like cucumbers better pickled. Huh? Wait, what?
Anywho, hit the jump for insight, nicknames, and random thoughts on where the Sixers stand as we come to the end of 2010.
Biggest Surprise: Jodie Meeks
If you recall, I said in my season preview that I liked Meeks, I just didn't expect him to get any playing time. Well, I guess I was just used to head coaches that have no idea what they are doing. The team is 7-6 since Jodie made the move into the starting lineup, and its clear that he has helped spread the floor and create space for his teammates to get to the basket. That said, he has been shooting the ball terribly in recent games. I expect him to shoot around 38-39% from 3pt range the rest of the way, and I would like to see him start to get to the basket more often, but we got this guy for free so whatever he gives us is a bonus.
They Are Who We Thought They Were
This team can play defense. This team can't really play offense. There is not one player on this team that provides offense on a consistent basis, but guys like Jrue, Iguodala, and Brand bring it defensively every game. One of my favorite moments of the season was Elton Brand taking out Blake Griffin when he tried to go up for a Blake Griffin-esque dunk.
That's right, Blake, no easy buckets
.
Their biggest problem offensively is that they have nobody to go to when the team really needs to score. What I mean by that is when the team hits or cold spell, or more importantly in the last few minutes of a game, they have nobody to go to that can get it done consistently. In fact, they go to Iggy, which just hurts the team.
Evan Turner…dude, seriously WTF?!?
I was hoping that by now we would have some kind of read on this guy, but it's the end of December and, well, we don't. Everything I said before the season started still stands. He still doesn't appear comfortable playing off the ball, he looks lost/bored on the court, and he is quite possibly the least aggressive NBA player ever. However, he will do something about once every other game that gives us some hope. For a guy who is 6'7'', he can flat out handle the ball. He hasn't been hitting jumpers at a high rate, but his form is consistent and that will hopefully turn around with more attempts to get in rhythm. He has good court vision, he can pass the ball, and he has been decent defensively. His rebounding is inconsistent, but he definitely has the ability to be a 5-7 rebound a game guy if he got 30+ minutes. Did I mention he isn't very aggressive? I like to refer to him as Evan "Hot Potato" Turner. He gets the ball in his hands…aaaannnnnd it's gone. It's gotten to the point where I get excited just to see him put the ball on the floor. He should be forced to take at least eight shots a game. Just tell him if he isn't more aggressive we'll take away the white girls, because NBA players love white girls. Except Lebron. He's gay. #unnecessaryshotsatlebronbecauseijustdon'tliketheguy
Sir Thaddeus of Nasty Town…or Thaddeus Prime (both solid nicknames)
Now, here is a guy that shows up to play on a nightly basis. Doug Collins made the decision at the start of the season that he was going to try his hardest to put Thad in the best position to succeed. If he thinks there is a good matchup at PF, then he puts Thad there, and if the matchup is at SF, then that's where Thad's minutes are. It's about time that we just accept that he is a tweener. He isn't big enough to be a typical PF, but he just doesn't have the outside shot to be a great SF. He's a good rebounder, he has great hands, and he likes to throw down. Let him do those things and we'll all be happy.
#1 Guy That Needs To Go: Lou Williams
A lot of people might say Iguodala, and I'll get to that in a second, but for me Lou is the guy I want to get rid of the most. Why? He just doesn't fit on a team trying to develop it's young guys. He dominates the ball, and his shot selection is awfultrocious. That's right, I made up a word just to describe Lou's shot selection. Get rid of him and give those minutes to Evan Turner. A package of Lou Williams and Jason Kap-friendly-expiring-contract should be able to get them something decent, or at the very least a larger expiring contract and a draft pick.
Andre EightyMillionDala…trade time?
Andre has value. If I was a contender in the West, I know I would try to get him. He has a very particular set of skills that makes him a nightmare people like Kobe. Put Iggy on the Spurs, Thunder, Jazz, or Mavericks and suddenly the Laker's road to the finals gets a little tougher. I don't know if those teams have assets that I'd want in return, but with the amount of 3 and 4 team trades that go down every year somebody could make it happen if they wanted. I don't want expiring contracts and bad draft picks for him, but if we could get a contract, a young player, and a draft pick, I'd pull the trigger immediately. If we want to see what Evan Turner can do, then we have to move Iggy. It's as simple as that. We could send him in a package to Denver that nets us Carmelo, and then just cross our fingers that Melo gets Cliff Lee syndrome and loves Philly so much that he'll sign an extension.
Cliff Lee, making anything possible in Philadelphia since 2010.