Two punched walls (no holes), three objects thrown across the room, and countless colorful expletives shouted at my television. In other words, the Eagles lost. Big. In a game they really needed. Countdown to devastating loss: Tminus 7 days.
Maybe already calling a loss at Dallas next week in the first round of the playoffs is a bit premature, but the birds showed very little in today's shutout to make me believe otherwise. The reasons for the loss?
The complete lack of a running game
- Ten total attempts. Thirty-seven total yards. Really. Ten attempts for 37 yards. For everyone. The Cowboys, on the other hand, ran it 32 times for 179 and a TD. This was personally the most frustrating part of this loss for me. Dallas was successful in doing what the Eagles generally force other opponents to do: become one-dimensional. Today the Cowboys gave a year-long sober Andy a few sips of pass-happiness and forced the fat man right off the wagon. Weak analogy? Yes. True? Yes. Stay strong, Andy!
The complete lack of a pass rush
- Besides a couple of late bullshit sacks, the Cowboys O-line was far too successful in keeping the green jerseys away from Romo. Contrary to popular (dumb) thought, I liked that Sean McDermott didn't go heavy on blitzing in this game -- he did the same thing the past couple of weeks to significant success. The problem was with interior linemen Mike Patterson and Broderick Bunkley. Up until now, they've been able to get great pressure on opposing QB's right in the middle of the pocket without the help of a blitz. That wasn't the case today and, obviously, the effect was a great game by Romo. Whether it was a lack of strategy in their rushes, great play by the Cowboys O-line, or just poor play by our DTs, something wasn't working. Will McDermott use more exotic blitz packages next week? Possibly...but I think a lot of the emphasis will be on getting the necessary pressure with the front four.
Mike Jenkins owns us
- This motherfucker talked shit on DeSean earlier in the week (
"The main thing is they try to catch you off-guard. It's yet to happen to us, and we're not planning on it to happen. I guess he runs past a lot of guys, and it's not going to happen this week. It's not going to happen to us, period."
) and -- I hate to say it -- backed it all up. DeSean threw up another poor performance against the Cowboys as he and Jeremy Maclin were both held to only three catches. I'm not sure what the Eagles are going to do to remedy this situation, but the team needs a big day from one of these guys to move the offense.
McNabb played like balls
- Like...
these balls
. I don't wanna see that little kid sad dissapointment face from you next week, Donovan. You've played well all season, but not well enough to make the
racist
fans of Philly forget that Kevin Kolb threw two 300-yard games earlier in the year. Also, why didn't you make any adjustments at the line? I saw Romo over there calling audibles to draw plays and quick slants, but it seemed that you were okay with just having the cowboy blitz sodomize you all game. I mean, if sodomy is your thing that's cool...I'd just rather see touchdowns.
Sheldon Brown is slow
- The should-be Pro Bowler reeks of desperation. Grabbing onto jerseys and chipping hard at the line of scrimmage are just some of the tell-tale signs that Sheldon is hobbled and can't keep up with any of of Dallas WRs. The coaches have to make it their responsibility to keep number 24 out of illogical matchups.
They hid the winning gameplan in Westbrook's helme
t -Sure, this was initially just a joke from
PhillyGameday.com
, but I'll be damned if the real-thing doesn't look the same.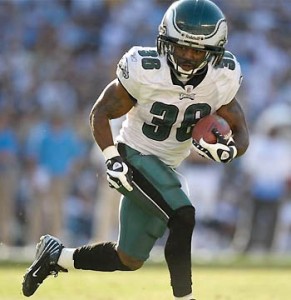 The Eagles cannot stop the mid-range pass game
- The middle of the field was open for business for Tony Romo, Jason Witten, and any of the Cowboy slot receivers. As I mentioned last week:
What we lack is the ability to defense the mid-range pass (especially to TEs). If we don't tackle properly, those underneath passes can go for some major YAC and cause this team to lose time of possession, and potentially, a playoff game.

Lots of underneath passes? Check. Loss of time of possession? Nineteen minutes to Dallas' 41...check. Giving up lots of YAC? I don't have the stats available but, yes, check. This shit needs to change before next Sunday.
Well, that's about it. My confidence heading into the playoffs has been cut in half like
Dewey Cox's brother
, but all we can do now is hope that this loss inspires the team to play better and gives the coaches enough tape to properly defend Jason Witten, Miles Austin, and that goddamn fucking fake-slant draw play. I hate/respect that play! Fuck you, Marion Barber!
Go Birds!